The Writing Mentor Speaks Her Mind,
Makes You Laugh, and Lights Your Fire!
From the Bird's Nest...
How Writers Create Ripples
Meet Sparkle, Rainbow, Bee, Shorty, Diamond, Twilight, Rocky, Jay, Treasure and Emerald, the very special friends of Ms. Beehler's K5 class.
At our farewell to the Marian Center party there was much talk of how the ripples of things begun at Redbird have spread and become part of many lives. Adults who were kids in the 90s remembered hiking down to the beach, finding their special rocks and writing stories about them. I often hear from grown up "kids" who still treasure their rocks.
But this story has another slant, from one of the teachers who joined Redbird and led several of the early grade summer camps. Judy Beehler is a Milwaukee Public School Montessori teacher at Fernwood Elementary in Bay View. She adopted the "rock story" concept, developed it further and, well, here's a note she wrote after the farewell party.
(from Judy Beehler, June, 2016)
"I was late because, thanks to you, I was hosting my own young authors' party at Fernwood. I have taken so much of what I learned from you and applied it in my own teaching. Every year my K5 students culminate their years with me by writing a magic rock book. I still use my story that I wrote at Redbird to get my students inspired to write their own books. We go to the beach to find our magic rocks. Then they name them and decorate them, and for the next month or so those rocks become members of the class as the children write and illustrate their own books.
"The results amaze everybody (including me) each year. The books are wonderful, and the children grow so much as readers, writers and artists as they work on their books and then share them with anyone who will sit down with them to hear their stories. I am no Judy Bridges, but thanks to your inspiration, I have "edited and published" around 125 magic rock books. They write and illustrate, and I type their stories and mount their illustrations in their books. The finished books are treasured by the authors and their families. As I learned from you, everyone can write and not one of my K5 students has left my class without producing a book. I credit you with my passion for helping children learn to write and becoming pretty successful at it. I am going to try to send you a picture of this year's books. I wish you could actually see them and hear their stories."
Ms. Beehler sent the photos of the kids and their books. (We blurred the kids' names.) The beach photo was taken a few years ago, during a Redbird writers' camp.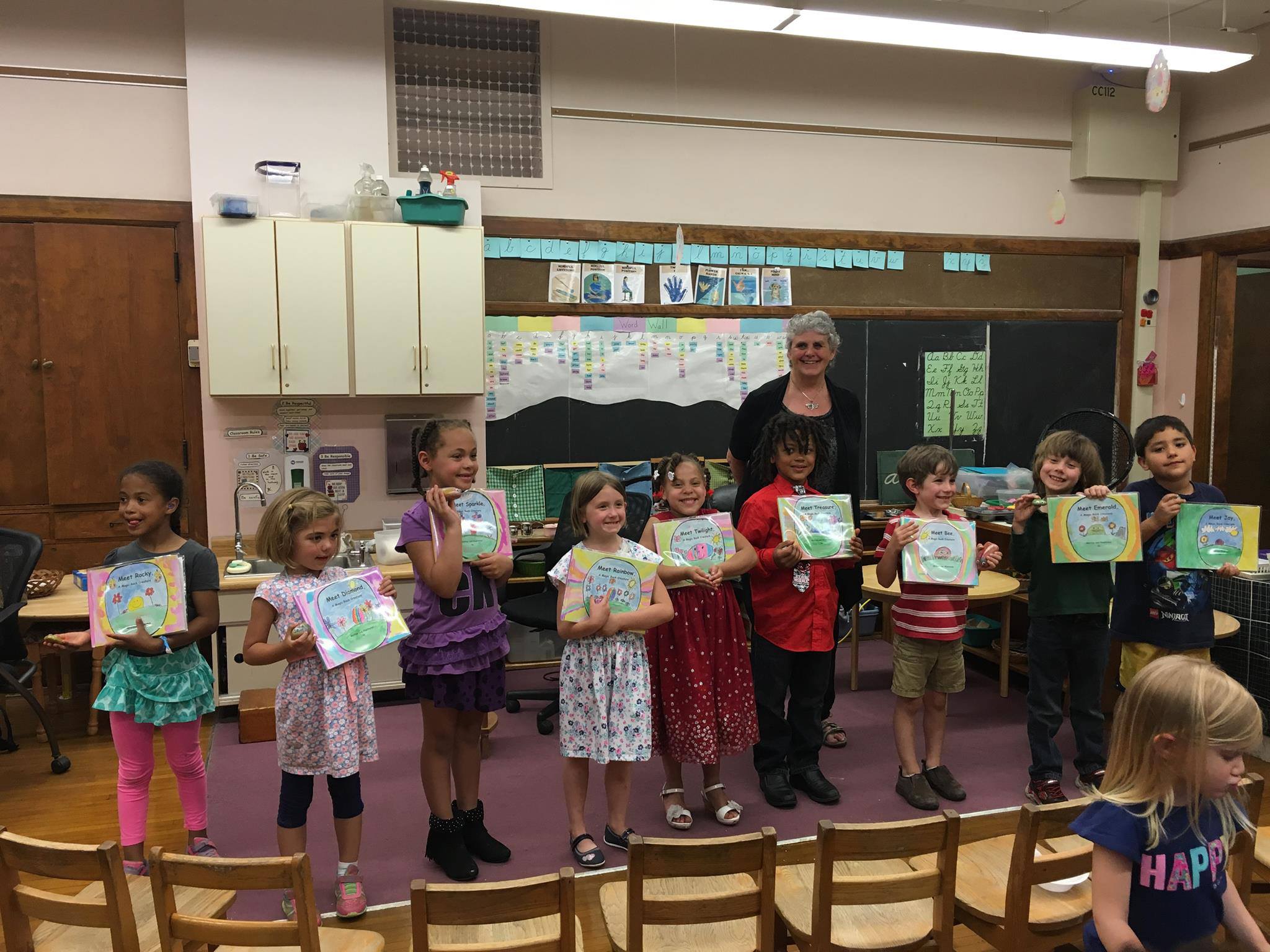 Young Authors in Ms. Beehler's class at Fernwood Montessori Elementary,
an MPS school in Bay View (Milwaukee) WI.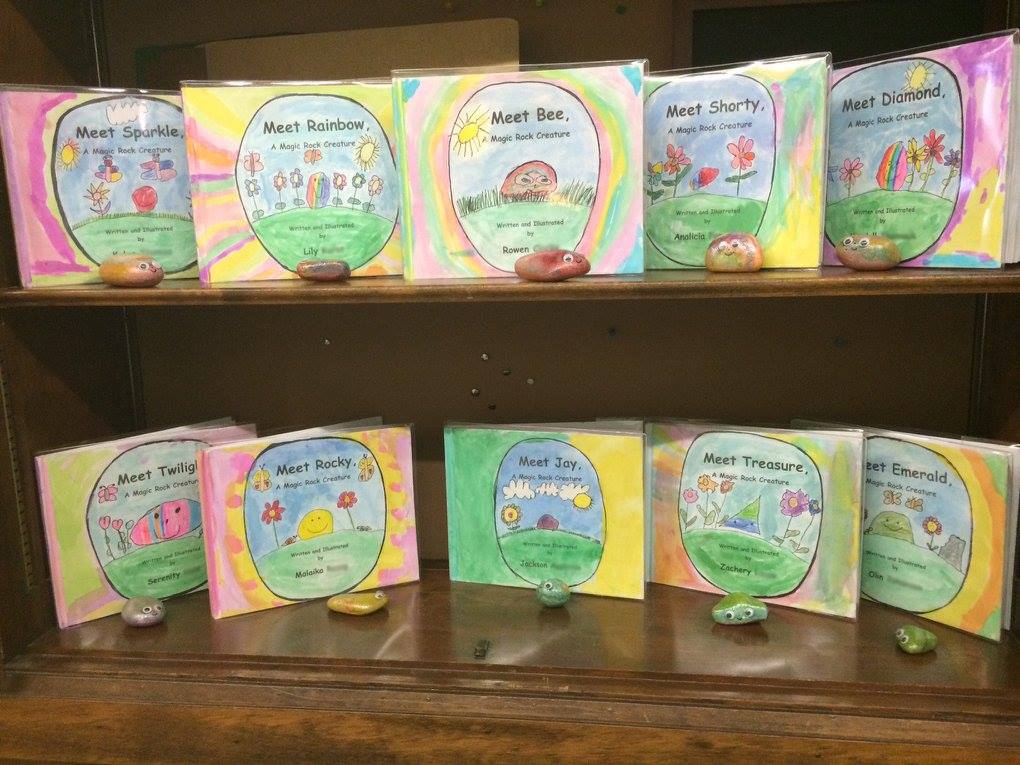 "Rock Story" books written by young authors in Ms. Beehler's K5 group.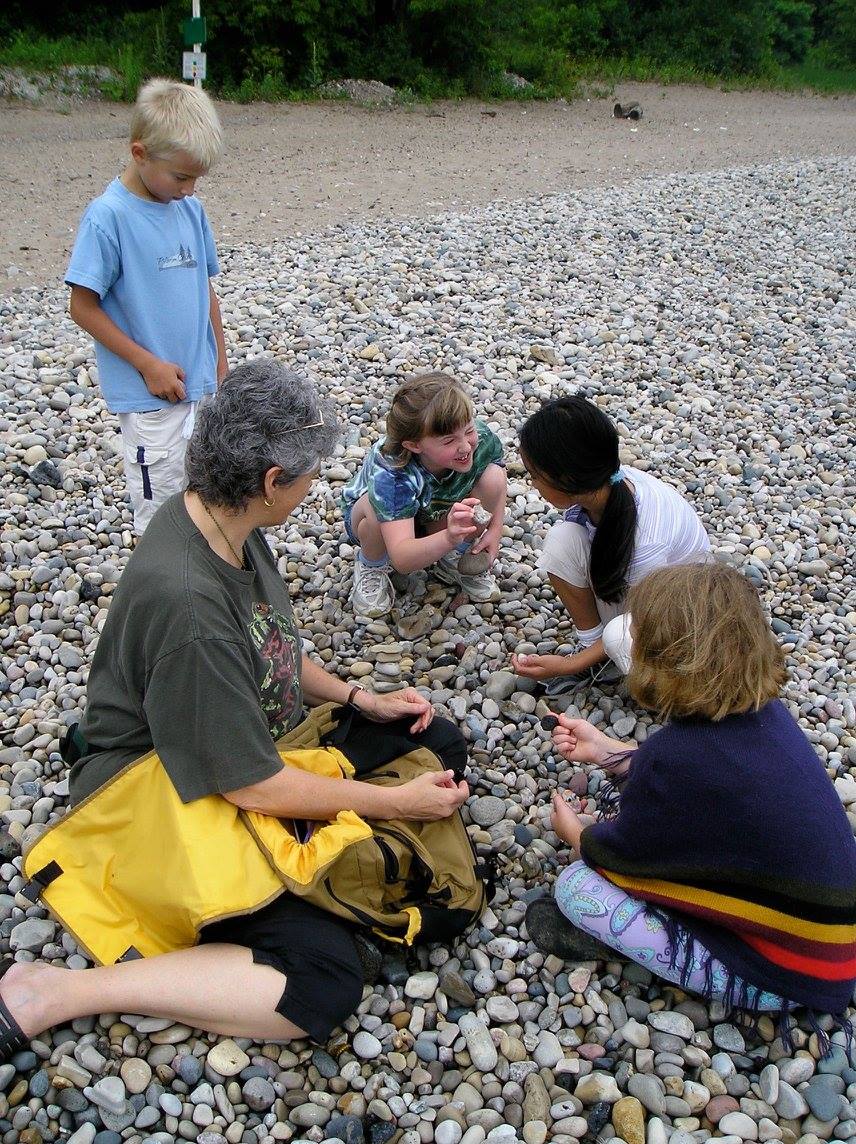 Ms. Beehler helping kids find their magic rocks.
Taken while she was teaching a Redbird Studio summer camp.